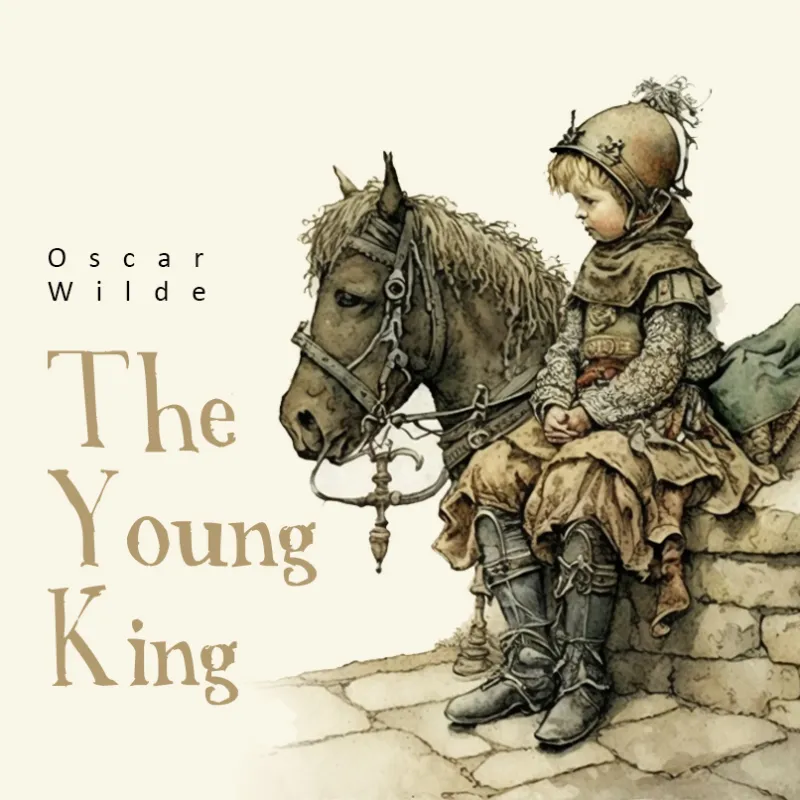 The Young King
The Young King
Section 1
It was the night before the day fixed for his coronation, and the young King was sitting alone in his beautiful chamber. His courtiers had all taken their leave of him, bowing their heads to the ground, according to the ceremonious usage of the day, and had retired to the Great Hall of the Palace, to receive a few last lessons from the Professor of Etiquette; there being some of them who had still quite natural manners, which in a courtier is, I need hardly say, a very grave offence.
The lad - for he was only a lad, being but sixteen years of age - was not sorry at their departure, and had flung himself back with a deep sigh of relief on the soft cushions of his embroidered couch, lying there, wild-eyed and open-mouthed, like a brown woodland Faun, or some young animal of the forest newly snared by the hunters.
And, indeed, it was the hunters who had found him, coming upon him almost by chance as, bare-limbed and pipe in hand, he was following the flock of the poor goatherd who had brought him up, and whose son he had always fancied himself to be. The child of the old King's only daughter by a secret marriage with one much beneath her in station - a stranger, some said, who, by the wonderful magic of his lute-playing, had made the young Princess love him; while others spoke of an artist from Rimini, to whom the Princess had shown much, perhaps too much honour, and who had suddenly disappeared from the city, leaving his work in the Cathedral unfinished - he had been, when but a week old, stolen away from his mother's side, as she slept, and given into the charge of a common peasant and his wife, who were without children of their own, and lived in a remote part of the forest, more than a day's ride from the town. Grief, or the plague, as the court physician stated, or, as some suggested, a swift Italian poison administered in a cup of spiced wine, slew, within an hour of her wakening, the white girl who had given him birth, and as the trusty messenger who bare the child across his saddle-bow, stooped from his weary horse and knocked at the rude door of the goatherd's hut, the body of the Princess was being lowered into an open grave that had been dug in a deserted churchyard, beyond the city gates, a grave where, it was said, that another body was also lying, that of a young man of marvellous and foreign beauty, whose hands were tied behind him with a knotted cord, and whose breast was stabbed with many red wounds.