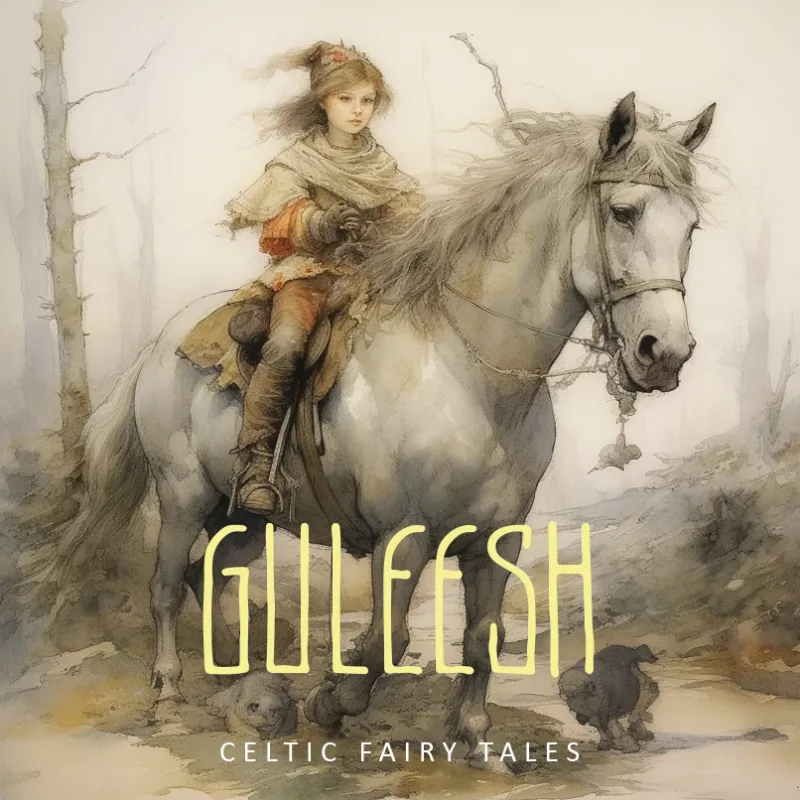 Celtic fairy tales / Guleesh
Section 1
THERE WAS ONCE A BOY in the County Mayo; Guleesh was his name. There was the finest rath a little way off from the gable of the house, and he was often in the habit of seating himself on the fine grass bank that was running round it. One night he stood, half leaning against the gable of the house, and looking up into the sky, and watching the beautiful white moon over his head. After he had been standing that way for a couple of hours, he said to himself: "My bitter grief that I am not gone away out of this place altogether. I'd sooner be any place in the world than here. Och, it's well for you, white moon," says he, "that's turning round, turning round, as you please yourself, and no man can put you back. I wish I was the same as you."
Hardly was the word out of his mouth when he heard a great noise coming like the sound of many people running together, and talking, and laughing, and making sport, and the sound went by him like a whirl of wind, and he was listening to it going into the rath. "Musha, by my soul," says he, "but ye're merry enough, and I'll follow ye."
What was in it but the fairy host, though he did not know at first that it was they who were in it, but he followed them into the rath. It's there he heard the fulparnee, and the
folpornee, the rap-lay-hoota, and the roolya-boolya, that they had there, and every man of them crying out as loud as he could: "My horse, and bridle, and saddle! My horse, and bridle, and saddle!"
"By my hand," said Guleesh, "my boy, that's not bad. I'll imitate ye," and he cried out as well as they: "My horse, and bridle, and saddle! My horse, and bridle, and saddle!" And on the moment there was a fine horse with a bridle of gold, and a saddle of silver, standing before him. He leaped up on it, and the moment he was on its back he saw clearly that the rath was full of horses, and of little people going riding on them.
Said a man of them to him: "Are you coming with us tonight, Guleesh?"
"I am surely," said Guleesh.
"If you are, come along," said the little man, and out they went all together, riding like the wind, faster than the fastest horse ever you saw a-hunting, and faster than the fox and the hounds at his tail.
The cold winter's wind that was before them, they overtook her, and the cold winter's wind that was behind them, she did not overtake them. And stop nor stay of that full race, did they make none, until they came to the brink of the sea.
Then every one of them said: "Hie over cap! Hie over cap!" and that moment they were up in the air, and before Guleesh had time to remember where he was, they were down on dry land again, and were going like the wind.
At last they stood still, and a man of them said to Guleesh: "Guleesh, do you know where you are now?"
"Not a know," says Guleesh.
"You're in France, Guleesh," said he. "The daughter of the king of France is to be married tonight, the handsomest woman that the sun ever saw, and we must do our best to bring her with us; if we're only able to carry her off; and you must come with us that we may be able to put the young girl up behind you on the horse, when we'll be bringing her away, for it's not lawful for us to put her sitting behind ourselves. But you're flesh and blood, and she can take a good grip of you, so that she won't fall off the horse. Are you satisfied, Guleesh, and will you do what we're telling you?"
"Why shouldn't I be satisfied?" said Guleesh. "I'm satisfied, surely, and anything that ye will tell me to do I'll do it without doubt."
They got off their horses there, and a man of them said a word that Guleesh did not understand, and on the moment they were lifted up, and Guleesh found himself and his companions in the palace. There was a great feast going on there, and there was not a nobleman or a gentleman in the kingdom but was gathered there, dressed in silk and satin, and gold and silver, and the night was as bright as the day with all the lamps and candles that were lit, and Guleesh had to shut his two eyes at the brightness. When he opened them again and looked from him, he thought he never saw anything as fine as all he saw there. There were a hundred tables spread out, and their full of meat and drink on each table of them, flesh-meat, and cakes and sweetmeats, and wine and ale, and every drink that ever a man saw. The musicians were at the two ends of the hall, and they were playing the sweetest music that ever a man's ear heard, and there were young women and fine youths in the middle of the hall, dancing and turning, and going round so quickly and so lightly, that it put a soorawn in Guleesh's head to be looking at them. There were more there playing tricks, and more making fun and laughing, for such a feast as there was that day had not been in France for twenty years, because the old king had no children alive but only the one daughter, and she was to be married to the son of another king that night.